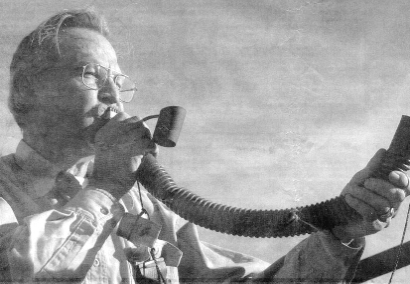 Come,
Blow Your Horn
    Don Laubach, of Gardiner, Montana, proprietor of his sporting goods store, waited on a customer, who knew all about Don's "Cow Talk" elk calling invention. "That sure brings 'em in," exclaimed his admiring customer as he put down a few dollars for a mule deer call.
     Don Laubach started E.L.K. in his home back in the 1980s. The initials stand for Eastman Laubach Kreations. Gordon Eastman was a photographer who saw Dan Laubach calling elk, and was amazed by the results. 
     Gordon eventually persuaded Don to put his invention on the market. At first Don didn't want to do it."I didn't want to give my secret out," he said. "It's like giving up your favorite fishing hole."
Eastman and Laubach were partners
     Eastman helped make an instructional video, and helped with marketing ideas. Their partnership flourished till his partner Eastman died six years ago.
     The "cow talk" call is a simple piece of plastic, hinged in the middle, and holding a pair of rubber bands. A caller bites on the mouthpiece and blows gently to create a "mewing" sound. The sound can be varied in tone by adjusting the bands.
     The business really took off in1986 when outdoor writer Jim Zumbo wrote a story in "Outdoor Life" about Don Laubach and his "Cow Talk" elk call.
     "The amount of mail we got changed so radically between 1985 and 1986," Don says, that the post office in our little town rose from Class D to Class C."
     Don's store displays a variety of hunt-ers' accessories. He has created other calls too, like the "Power Bugle" elk call, and the "Yote Buster" coyote call.
     Dan says he created the first 10,000 "Cow Talk" elk calls by hand, but now that and his other calls are made in two factories. He has authored and produced several books and videos.
     Don is proud of his town, of his state and of his business: "It's a good little industry for this small town on the edge of Yellowstone National Park
   "And It's good for Montana," he adds.
----------o----------
      Don's E.L.K. business' internet address is: www.elkinc.com. Phone: 406-848-7655.
      Story condensed from an article in Bozenam (Montana) Daily Chronicle, Nov. 18, 2001; by reporter Ron Tschida; photo by newspaper photographerThomas Lee.
----------oOo----------
      Isn't it amazing what a variety of talents we Laubachs have? A Laubach "cousin" sent this in. The LFA Editor asks you to keep sending names and contacts of interesting Laubachs!.